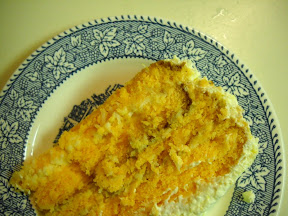 What a wonderful holiday. One of my favorites...nothing to do but cook, eat and be thankful! My kind of day.
One of the things I am thankful for is my real job, but it was nice to have several days off. I made the most of that time, enjoying a visit with my family. My mom hosted a big Thanksgiving day lunch at her house. My brother and his family came up from down south, and so did my Aunt Joy.
I cooked 2 turkeys and an orange coconut cake for the feast. This is the most amazing cake. It actually has an entire orange in the filling. I'm talking the peel and everything tossed into a blender and then combined with sugar and sour cream to create a delectable filling that you spread between the layers.
It tastes so good and looks really pretty too. The toughest part is splitting the layers, but if they are done and cooled completely it isn't too tough.
Orange Coconut Cake Recipe
Cake
4 eggs, beaten
1/2 cup oil
1 1/2 cups milk
1 package (3.4 oz) vanilla instant pudding
1 package (3 oz) box of orange jello
1 Orange Supreme Cake mix
Filling
1 whole orange (I use a navel orange because it has no seeds) - I put it in the blender and puree it)
1 package (12 oz) frozen coconut
1 carton (8 oz) sour cream
2 cups sugar
Topping
1 carton (8 oz) cool whip mixed with 1/2 cup of the filling
Directions
Preheat oven to 350 degrees. Grease and flour two 9" cake pans (tip: use a little of the dry cake mix to flour your pans)
Mix all of the cake ingredients together and beat on medium speed for 3 minutes. Pour evenly into the prepared cake pans. Bake at 350 degrees for approximately 30 minutes or until knife inserted into the center comes out clean. Be sure cakes are done so they won't fall apart when you split them.
Cool layers completely and then split the 2 layers into 4.
Filling
Mix all of the filling ingredients. Reserve 1/2 cup to mix with the cool whip for the topping.
Spread the remaining filling between each layer and on top.
Topping
Use the filling cool whip mixture to ice the cake on the sides and top.
Refrigerate the cake overnight.