And the angel of the LORD appeared unto him in a flame of fire out of the midst of a bush: and he looked, and, behold, the bush burned with fire, and the bush was not consumed. Exodus 3:2
It took a good bit of thought and lots of trial and error (heavy on the error), before I finally got a handle on a background for this piece.
I knew I wanted it to be light and luminous, but I didn't want it to flat and plain. I ended up going with a combination of gold and bronze paints, and then gave it all a brown wash to pick up the texture of the brush strokes.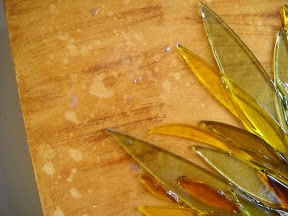 The finished piece. In the background of this photo are 2 other pieces I worked on this weekend. More on those later...
www.etsy.com/shop/leisaworks