I was invited to be a vendor in the Greater Greenville Master Gardeners Annual Symposium this past weekend. Special thanks to my dad for coming out on Friday afternoon to help me setup my area. I had a limited amount of time to get this done because of obligations to my real job, and I couldn't have finished without his help.
On Saturday, Tim and I were at the Carolina Center, bright and early on Saturday morning, and had lots of fun with the Master Gardeners. They were all so friendly and the event was well organized. It w a little different than most of the things we've done. Instead of a steady flow of traffic, we'd have rushes between seminars.
We had a great show, one of the best I've done!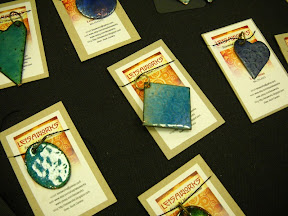 Some of my new copper pieces. This was the first time I've had them at an event, and they sold pretty well.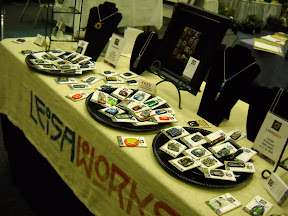 Tim mans the booth. We met a nice couple among the vendors. He does metal work (quirky sculptures from found objects). They have been doing this for a while, and gave us all kinds of great suggestions. I traded the yellow flower artwork in the photo above for one of his metal pieces - a flower constructed from some type of gear with pieces of horseshoes for leaves. I will try to take a photo and post a picture of it tomorrow.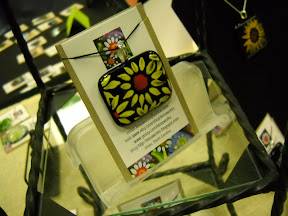 www.etsy.com/shop/leisaworks