The artist never entirely knows. We guess. We may be wrong, but we take leap after leap in the dark. Agnes de Mille
I cut a shape out of a piece of copper and then file down the rough edges.
Punch a small hole in the shape for hanging later.
The shape is placed on a trivet and goes into the kiln to burn off any dirt and oil from my fingerprints.
Inside the kiln.
The shape comes out black with fire scale. I clean the copper before the first coat of enamel powder is sifted onto the piece.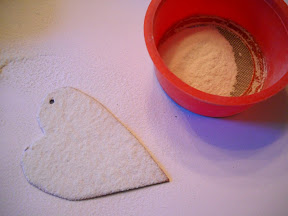 Covered with transparent enamel powder.
Back on the trivet and into the kiln for several minutes until the enamel is smooth.
The piece comes out of the kiln to cool. I flipped the piece, cleaned the back and repeated the process with transparent enamel.
Another coat - red enamel powder is sifted onto the heart.
The red coated heart goes into the kiln.
Finished heart - front
Finished heart - back