I work in wherever medium likes me at the moment - Marc Chagall
Enameling is my medium of the choice at the moment. It is beginning to like me a little bit better now, although we still have lots of love/hate moments.
I like the experimental nature of working with the copper - strong, yet bendable. Each time I begin sifting and firing, it is an adventure. Light over dark, dark over light, transparent or opaque. Multiple coats of enamel and firings reveal textures and patterns that surprise me.
Last night, I worked,on several pieces adding some new enamels to the mix. Some were disasters, destined for the trash can or maybe another coat or two of enamel.
I was especially taken with this one. On one side, I used green transparent enamels over copper enameled with a clear enamel. The green seems like it glows, and there is a little crackling running throughout the piece.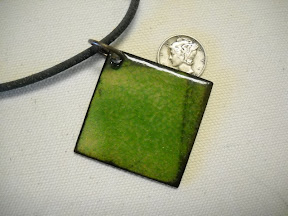 The back is a mix of opaque blues. I used a tool to drag patterns through each fresh layer of powder to reveal the color below.
And I create my first ever real pair of earrings out of some smaller copper shapes.