So, I asked for and got a enameling starter kit for Christmas. Since I already have the kilns, I thought this would be fun to try.
The kit came with some of the stuff you need to get started. It also came with a couple of photocopied instruction booklets. These booklets are very thorough, but don't really seem to explain what to do with the items they included in the kit. They also look like they were written about 50 years ago and are just a bit vague on the details for beginners based on the stuff they sent. Since I have not done this before, I really need basic instruction. I think I will have to write a strongly worded letter to the company that sold the kit : )
So anyway, I finally watched some people on YouTube actually enameling copper, I read some stuff online and decided to give it a try. I really don't have a single clue what I am doing. I know seasoned enamel artists would be appalled at my technique, but anyway it's a start...
Several coats of robins egg blue, some brown, some red and then a misting of robins egg blue to finish.
This is supposed to be the back. It kept sticking to the stupid little multiple-piece metal standy thing that they included in the kit. Of course, there was no information anywhere in the cobbled together directions about how to assemble this contraption. However, they did include in the directions the need to coat the back with "flux" - whatever that is...they neglected to include it in their starter kit.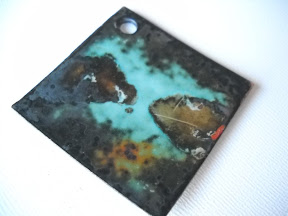 In subsequent tries, I did figure out a little more about how to set up the little Grover so that the piece balances on three tiny points...less sticking.