I'm not a teacher, but an awakener - Robert Frost
Occasionally, someone sees some fused glass and is inspired to learn more...which is really cool since that is exactly how I started down this glass path.
I had someone call last week asking about a lesson, so on Saturday afternoon, basket of glass and tools in hand, I went to her house and worked with her for a couple of hours. Really, there is only one thing I can actually teach in the process...how to score and break glass. The rest of the process involves creatively assembling pieces of glass - color combinations, shapes, contrast, size, texture, etc.
Since my student does beadwork and creates jewelry already, she had no trouble with the creative aspects and picked up the technical requirements fairly easily. She created several pendants during our time together, and I think she did a wonderful job!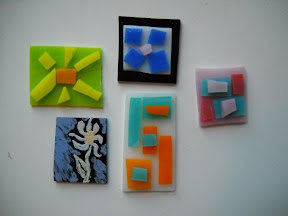 Her pendants ready to be fired. She even tried her hand at glass painting (lower left corner).
Inside the kiln, let the firing commence.
Many hours later, they are cool, out of the kiln and ready to finish with pendant bails.