This past weekend was the Historic 34th Annual Spring Jubilee in Pendleton, SC. It was my first time to be a part of this festival, and it was a lot of fun. It was extremely well planned, the people that organized it were nice and helpful, and I would go back next year without question.
The weekend did get off to a rocky start when my iPad inexplicably failed to fully charge overnight Friday. Had to stop at Walmart at 7 AM and buy a $30 car charger. The iPad is my credit card "machine" - so I needed to make sure it was fully charged all day.
Then, when we pulled the canopy out of the pack, we found one of the roof beams was bent and in short order...broken. We did manage to get the canopy up and fairly stable with the three functional roof supports.
About noon, on Saturday, the big winds blew into town. I would estimate 50 mph gusts. Our already hobbled tent, was firmly bolted, tied and weighted with 45 pound weights on each post, but it took a beating. The broken rod eventually wore a small hole in the roof.
We ended up leaving the tent beside a garbage can when it was all over. My mom reported that the guy that was picking up the trash salvaged it and was taking it home to repair. He planned to make a nice shade for his wife, so she could enjoy sitting out in the sun. I was happy to hear that wasn't a total loss.
The good thing was that sales were fairly good, and that when things started up at 1:00 on Sunday, our tent was still standing, the winds were calm and the weather was perfect.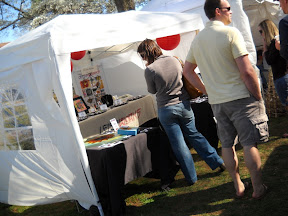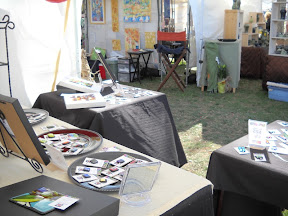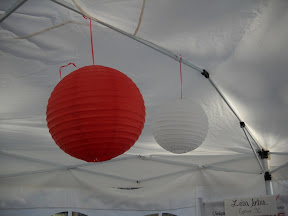 www.etsy.com/shop/leisaworks